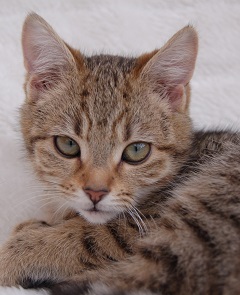 In this case story Leslee Griffiths tells a Tapping Tale. And how sometimes even those who practice EFT sometimes forget to use it on themselves!
She writes: One night my smallest cat Poppy failed to come home before dark. I was worried sick and the usual scenario of tears and anxiety, pacing and calling began again. My husband rolled his eyes and headed for the lounge whilst I tried to understand the pounding in my heart and the overwhelming fear I was feeling. Nothing I did made any difference. I could not be distracted or calmed. Eventually my husband handed me another tissue and suggested I do some tapping. How strange, this hadn't even occurred to me? Well, not really. The feelings that I was experiencing so intensely prevented me from thinking or acting in my usual calm and logical way. I was literally, energetically experiencing a past traumatic state of which I was unaware.
Read on for the full tale...